Teenagers Eating Ice Cream Cones,
National Gallery of Denmark, 2020
Oct 18th, 2pm-2.30 + 3.30pm-4pm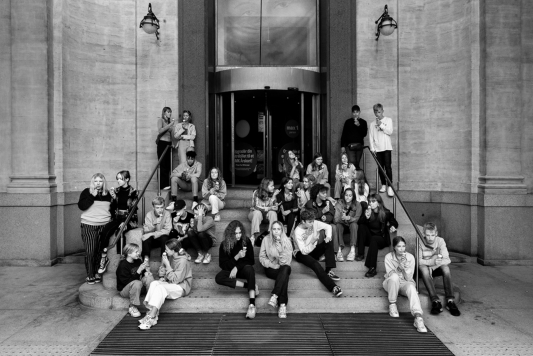 Teenagers Eating Ice Cream Cones, National Gallery of Denmark, 2020

Performance and b&w pre-documentation photographs
The performance Teenagers Eating Ice Cream Cones involves a group of young people hanging out at the entrance of the National Gallery of Denmark, completely engrossed in each other and their common activity – eating ice cream. The teenagers do not speak, but communicate through their bodies, facial expressions, movements, and with little glances they exchange with each other and with the audience. The work addresses how little it takes to connect us, focusing on the mechanisms of inclusion and exclusion always at play between people everywhere.
The work includes what I call a 'pre-documentation photograph', which is site-specific and taken prior to every recurring performance. By the time the performance is enacted, this staged photograph is already on display inside the museum, creating a movement back and forth in time between the two parts of the work. Each time the piece is performed, a new performance a new photograph is taken, enabling the work to potentially grow in scope and size.
With its black-and-white aesthetic, the photograph is a nod to the performance tradition of the 1960s–70s, while also constituting a study of how one can capture and present volatile media in an exhibition context.
Molly Haslund
https://www.smk.dk/event/teenagere-spiser-vaffelis/