People on the Ground 2022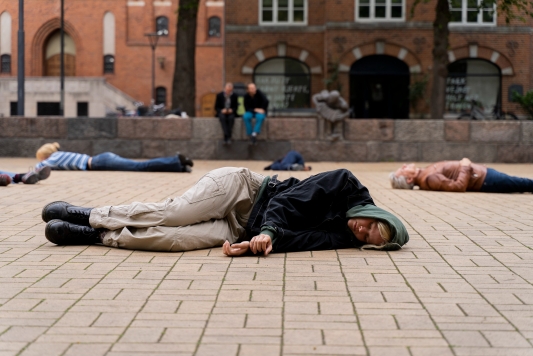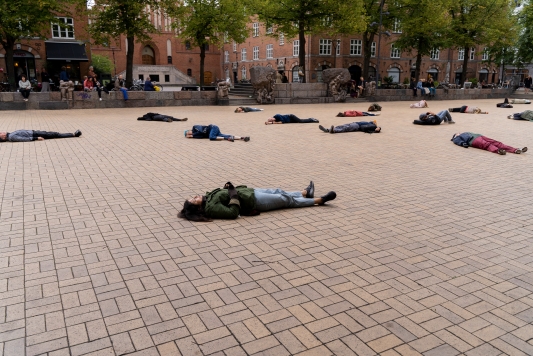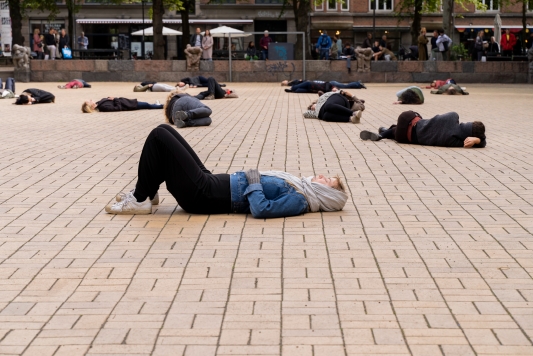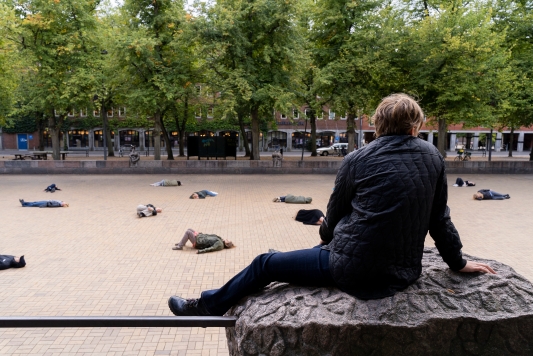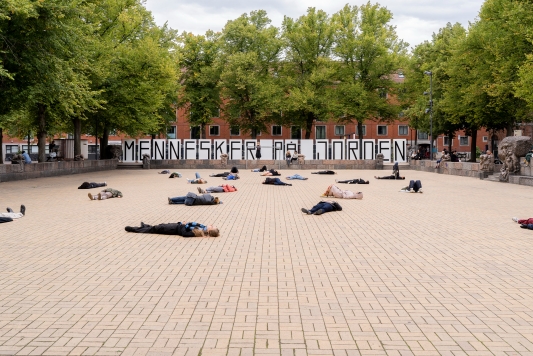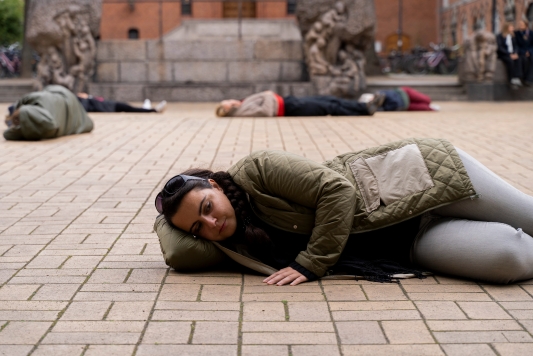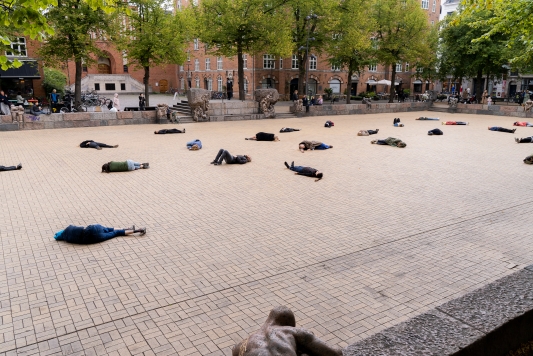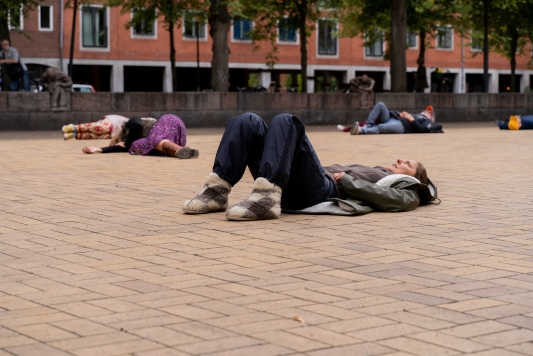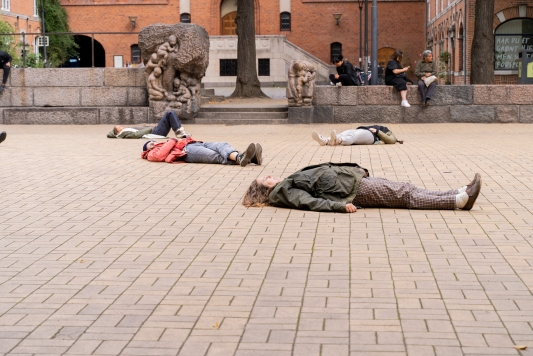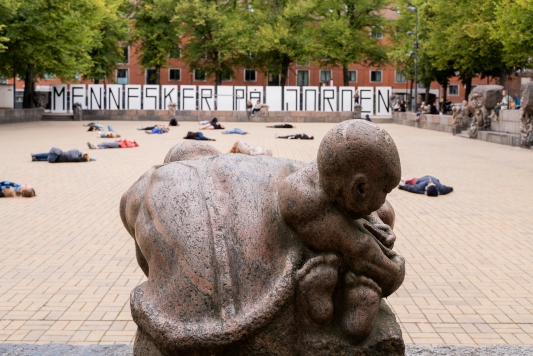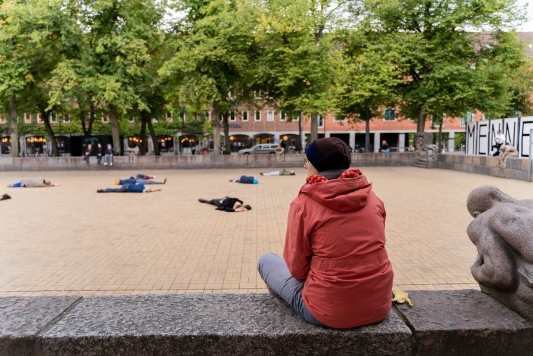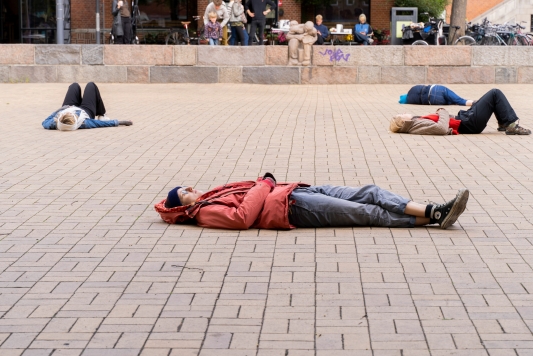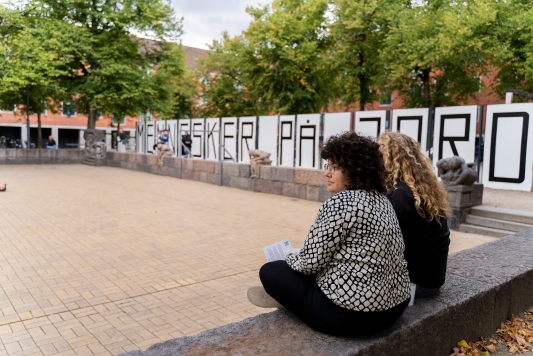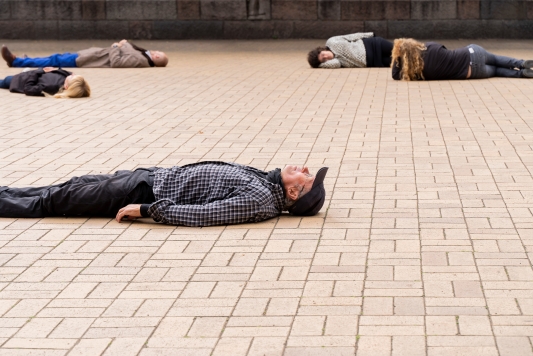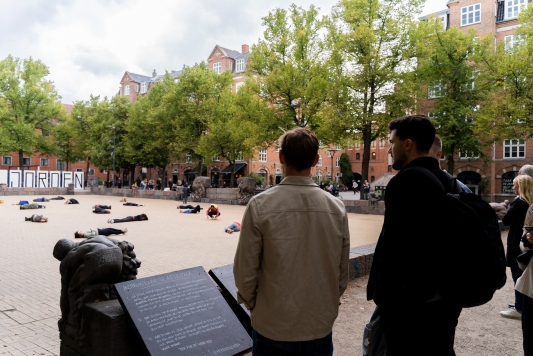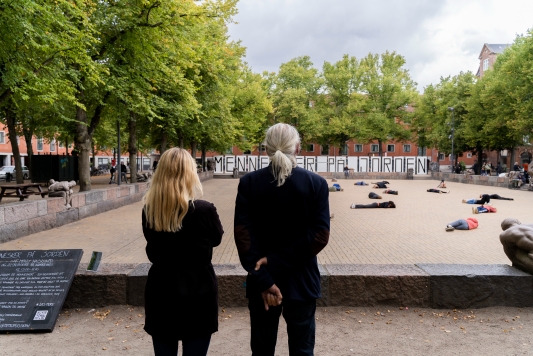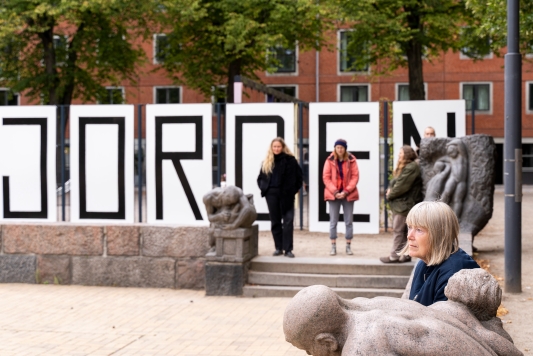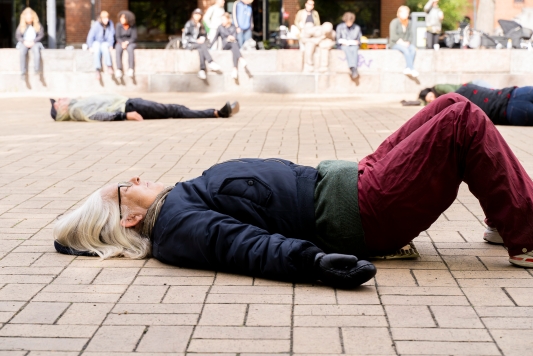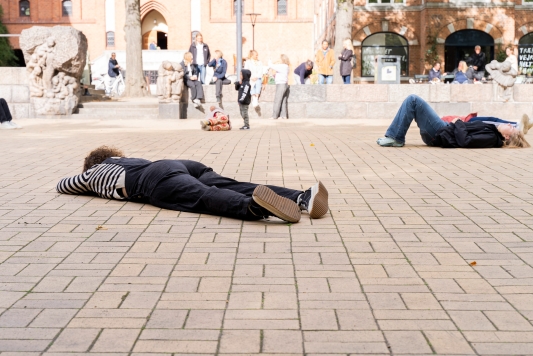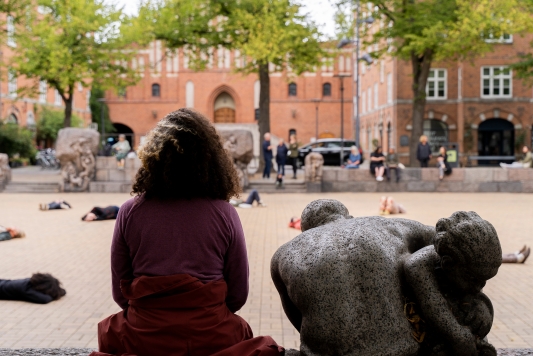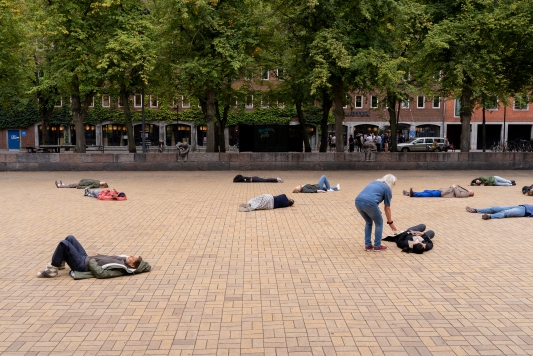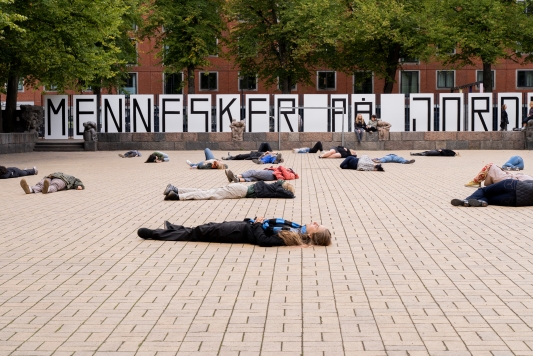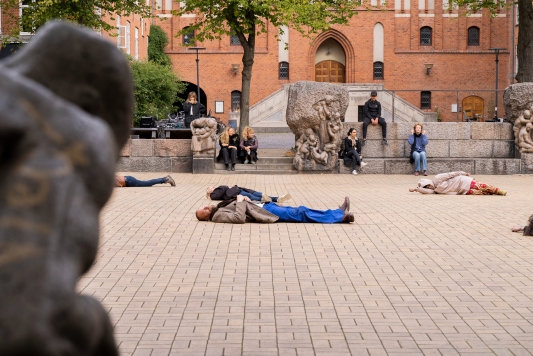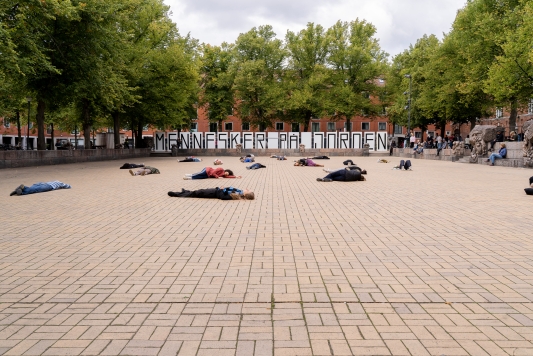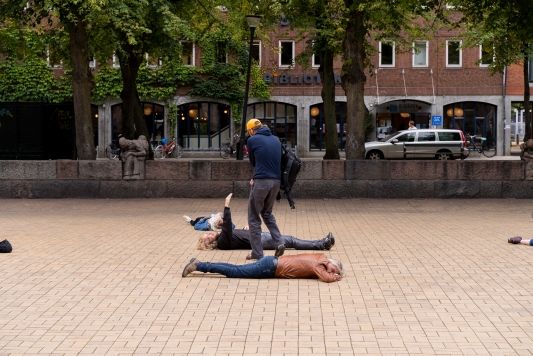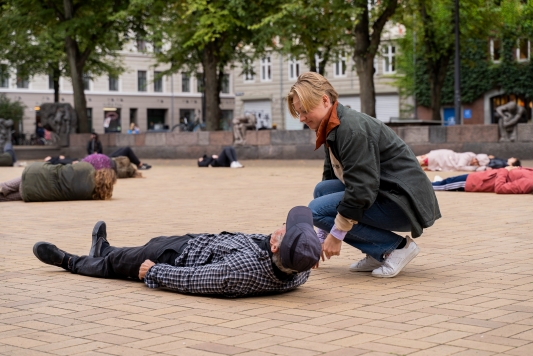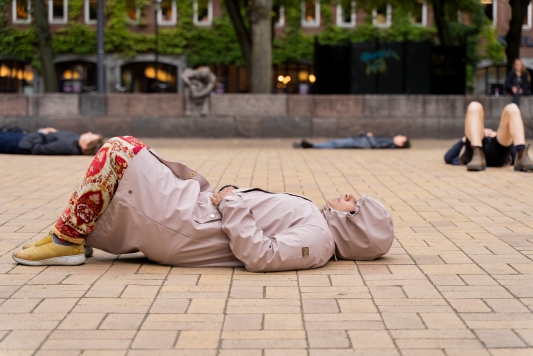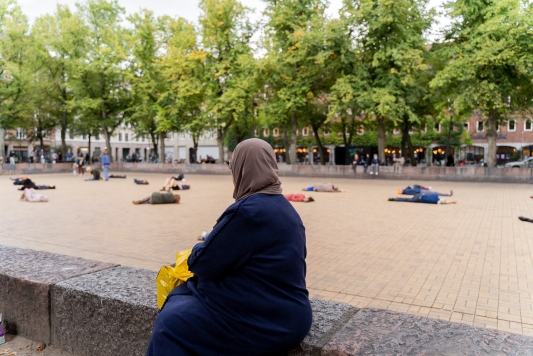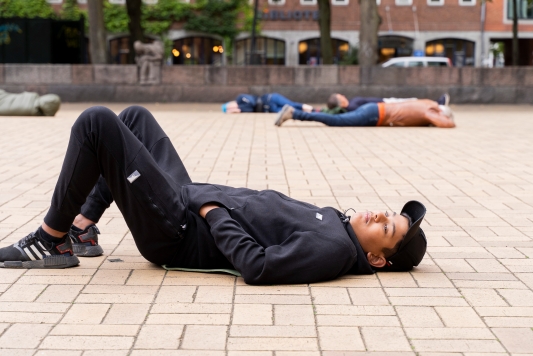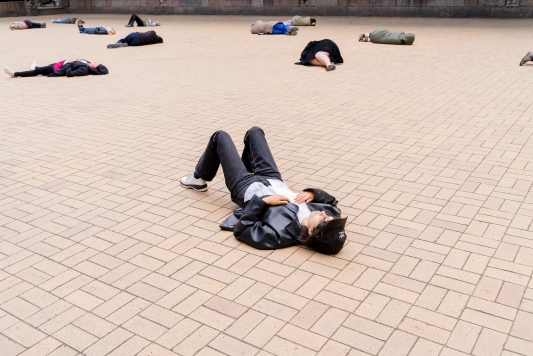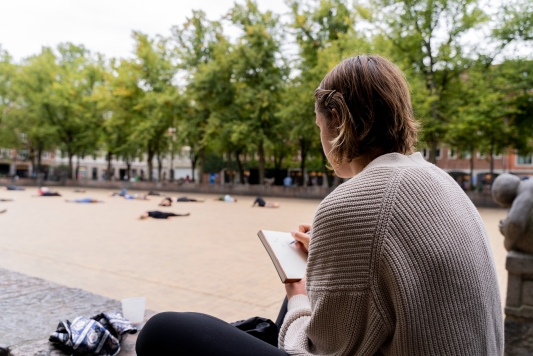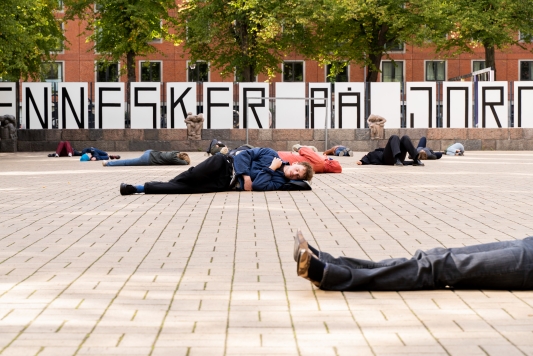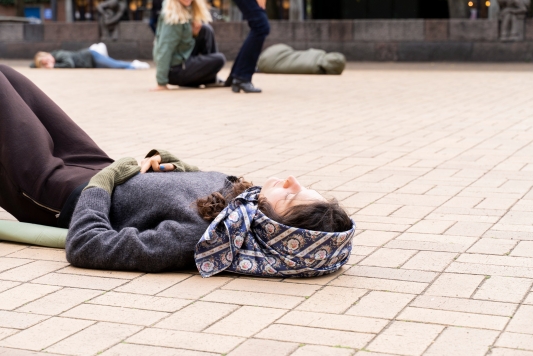 MENNESKER PÅ JORDEN
[PEOPLE ON THE GROUND]

Saturday 3 Sept. 13.00-16.00 – stay for as long as you wish
Blågårds Plads, Copenhagen N
Time has stopped. All movement is silenced. 22 people are lying on the ground. At one point, one of them starts to move, gets up and walks out among the passers-by in the square. Another raises her arm in the air, and a little later a new person comes and lies down – a person who has been invited to lie down for a while. There's something going on.
Together with a group of people from Nørrebro and with the help of passers-by, Molly Haslund creates the image of a shared, resting body that imperceptibly changes – like the cells in an organism that are slowly replaced.
The framework for the performance is a set of simple instructions that are followed by the 22 participants and by people in the audience who want to join in. Together and through ongoing negotiations, they maintain the common image.
If you are nearby, you might want to lie down. Then you simply follow the instructions that you will find on the site.


The joint action took place at Blågårds Plads, which, as a rarity in the city, is a space that does not dictate a specific purpose. The square is framed by sculptor Kai Nielsen's 22 granite figures created a century ago as a tribute to the working people. Here they watch over everyday life, and over time they have formed the framework for the square's battles and social life.
At Blågårds Plads Molly Haslund investigates the interaction between the frozen image and the social living body which in this case is lying on the ground.
The performance was part of the Re-ritualizing The City program initiated and curated by Metropolis Copenhagen.



INSTRUCTIONS
We hold the image of the 22 resting bodies for three hours.
WOULD YOU LIKE TO JOIN US?
1. Put your mobile phone on silent. Walk quietly into the square, tap one of the participants on the shoulder. Briefly agree on how long you will replace them and then take their place on the ground. Lie down in a resting position and stay still for as long as you can.
2. If you need to change position, stand up and tap another participant so that you can swap places. Make sure you show them where you were lying. Then you can both take your new spots in a new lying position of your choice.
3. When you don't want to participate anymore, get up and leave. You can either go out into the audience and find a new replacement, who you point to your lying spot - or the person you replaced will return.
Thank you


Photographer Rine Rodin

A 129 minutes video documenting the performance is available by request.
Camera work and edit by Pernille Emilia Kjær.

Short 5 minutes excerpts embedded on this page by Didde Borup Larsen