In the Beginning there was Rhythm 2012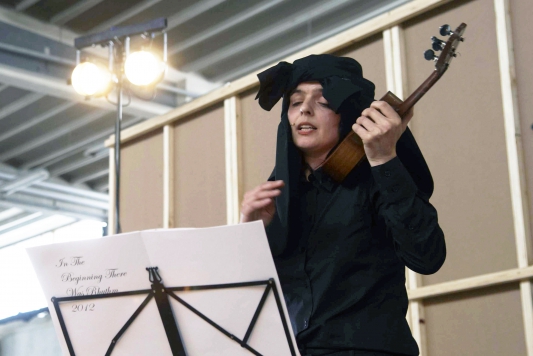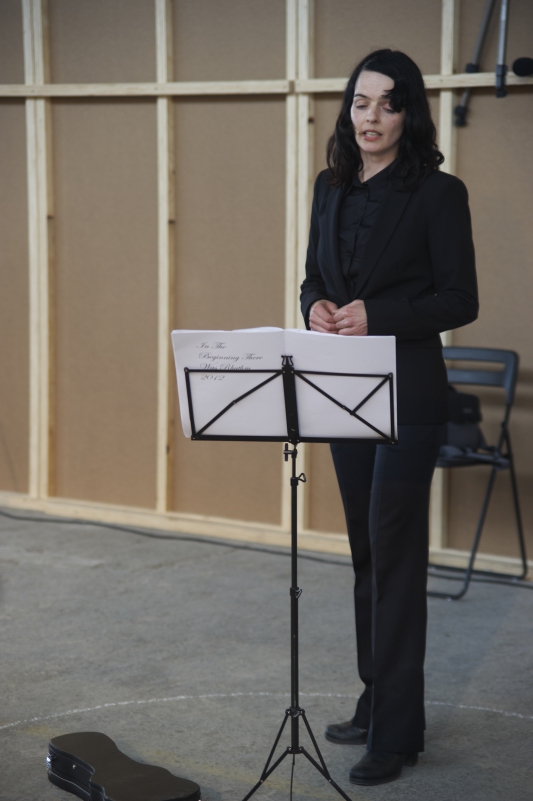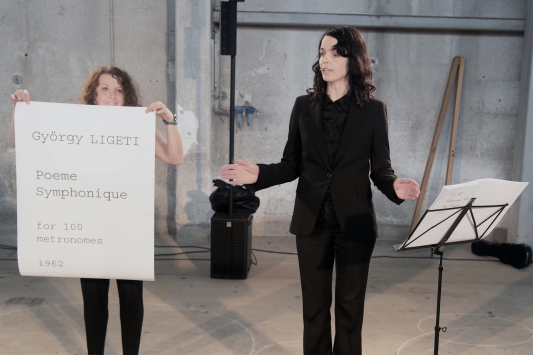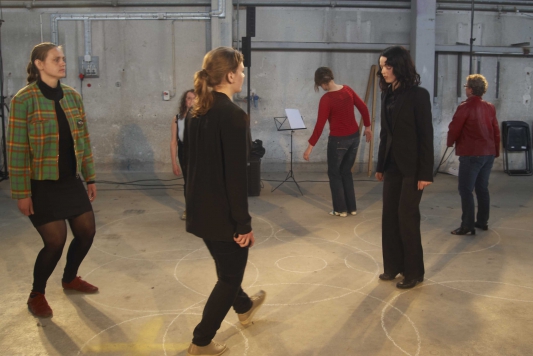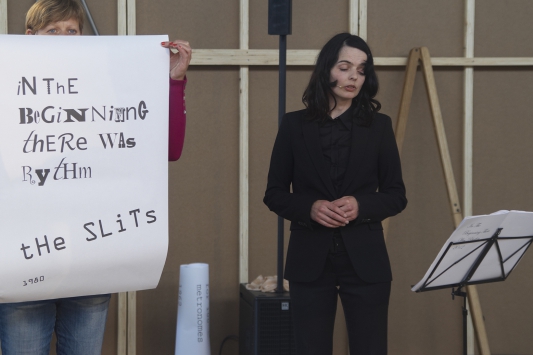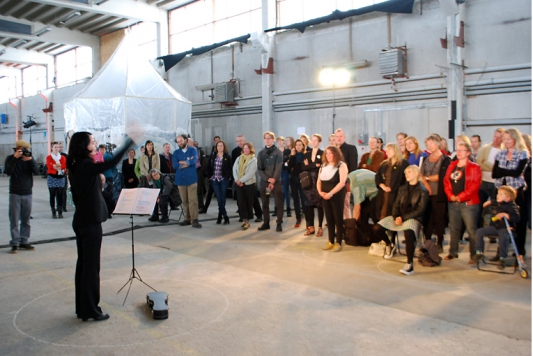 In the Beginning there was Rhythm (2013)
2012 FRAC Champagne-Ardenne, Reims Scènes d'Europe, Dec 7th
2012 ACTS – Festival for Performative Arts, Museum of Contemporary Art, Roskilde, Denmark, June 17th
2013 Overgaden Institute of Contemporary Art, Copenhagen, Denmark, Seminar/ Lecture Performance June 6th–9th
Full lenght performance 35 min.
Video exerpts 2.23 min. filmed and edited by Niels Plenge
For full video version email molly@mollyhaslund.com
This performance is also available in English.

In the Beginning There Was Rhythm (2012)
In the lecture performance In the Beginning There Was Rhythm Haslund addresses rhythm as a fundamentally universal phenomenon. Using a pair of gigantic compasses, she draws circles on the floor to invoke the rhythm of planets before jumping and running to demonstrate the innate rhythms of the human body. This prelude is followed by lectures on two iconic yet extremely different musical works: one by the avant-garde composer György Ligeti, and the other by the punk group The Slits. Both works were considered highly controversial when they came out, and before re-enacting the compositions Haslund outlines the form and context of the original concerts. As part of a larger narrative on origins, reconstruction and music culture, the work unites bodies, creations myths, legends and rhythms in a tribute to the primeval beat of the universe.


KUNSTEN.NU review by Mette Garfield in Danish (translation below)
kunsten.nu/artikler/artikel.php?acts+festival
The insecurity of the spectator (review excerpt English translation)
"In the beginning there was rhythm, in the beginning there was rhythm..." sings Molly Haslund. This is also the title of the piece and a British punk song from 1980 by The Slits. She looks like a real rock star with her jacket wrapped round her head, feet stamping the floor and tapping the rhythm on her ukulele.
The piece is one of the festival's best, and like many of the others, it makes the spectator unsure of what to expect from the experience. Similar works include Ben, Rør & Stampes' homemade instrument concert, Einat Amir's dating boxes Enough About You, Hartmut Stockter's entertaining Roskilde Expedition, Elin Lundgren & Petter Petterson's peculiar, theatrical non-space Headhouse and Lilibeth Cuenca's extrovert Instrumental Man.

Negotiating Art
Everything is being negotiated: What we see, what we partake in and what we encounter. Is it part of the concept? A sculpture? A happening? A performance? A lecture? This is how the performances explore crossover work and expand the understanding of the genre itself. New grounds are being broken.
Dynamic is added to The Slits song in Haslund's piece when it becomes mirrored in a special cover version of György Ligetis' composition for metronomes Poème Symphonique from 1962.
Instead of using metronomes Haslund applies bodies. 7 bodies jumping, stomping, hopping. As an introduction to both compositions Haslund reads a form of anthropological texts about The Slits and Ligetis' original works.
In doing so the piece stimulates an unfulfilled expectation of attending a concert. And as Haslund comments on the re-enactments, reconstructions, and on authenticity and music culture the spectator is overwhelmed with an array of images and associations as she creates her own mental performance."

KOPENHAGEN MAGASIN, June 2012 (translation coming soon)
'En kunstner kan også være en musiker'
af Jóhan martin Christiansen'
– om performancefestivalen ACTS i Roskilde søndag d. 17. juni 2012

DECLARE INDEPENDENCE by Karl Holmqvist
youtube.com/watch
Der var engang hvor man betragtede maleriet som det øverste i et hierarkis system, derefter kom skulpturen, derefter tegningen og i bunden lå nok grafikken. Det var nok noget med at engang for mange, mange år siden var man optaget af at kategorisere ting efter dens værdi, altså en formåen at fremstille en fyrste eller konge eller noget i den retning.
Lad mig skære det ud i pap: De dage er overstået! Døde! Eller?
Om søndagen til performancefestivalen ACTS i Roskilde var der debat om, ja, perfromance, re-enactments, teater osv. og midt i det hele drejede diskussionen ind på forholdet mellem performance, re-enactment, teater osv. og på den anden side resten af kunstverden, som om at det var en helt naturlig, næsten hierarkisk, opdeling eller forskel på disse to "verdner". Der blev næsten påstået at maleriet ligefrem er tyst eller stille. Jo, der er ikke ligefrem meget lyd i selve maleriet, men ikke desto mindre tør jeg påstå at der er lige så meget lyd i et maleri som i en performance. Tænk på alle de gamle damer som taler om Tal R eller Dronningens fine malerier, det ville jeg kalde lyd. Tænk på al den musik som strømmer ud af højtaleren i en malers (og for den sags skyld alle os andre kunstnere med) atelier, når maleren er i gang med at skabe sine værker, det er da en del af værket, ikke?
Sådan set har jeg slet ikke lyst til at diskutere en opdeling eller hierarkiske forskelle på maleri, skulptur, performance osv. Men den påstand som blev smidt ud, fik mig umiddelbart til at gruble lidt over, hvad der egentlig er på spil når man fx taler om en performance, som selvfølgelig er betinget af en eller anden form for tid, men det er en skulptur i den grad også! Især hvis man tager i betragtning at de fleste performances og lignende bliver (gen)set som dokumentation på youtube, UBU, osv. Det gør sig sikkert også gældende indenfor de fleste andre medier, som fx skulptur.
For at skære min pointe ud i pap igen, så var nogle af de performances som blev opført på ACTS, fx Molly Haslunds værk "In the Beginning There Was Rhythm" eller Lilibeth Cuenca Rasmusen & Lydegenskabs "Den instrumentelle mand" for mig lige så meget en skulpturel handling som en tidsbaseret handling. Det er en krop eller flere i et rum, der er nogle bevægelser, handlinger osv. og der er instrumenter for at gøre noget muligt. Hvorfor skulle dette ikke lige så meget være en skulptur som en performance?
Ja, måske fordi at man bliver nød til at kategorisere disse ting og sager, for overhoved at kunne, for det første at forstå og for det næste at formidle det. Eller omvendt? Skal man først formidle for derefter at kunne forstå?
Hvis vi går lidt tilbage i tiden igen, til starten, så var maleriet af en konge utroligt enkelt (eller ikke helt), men det formåede i hvert fald at formidle sin position eller værdi helt klart og tydeligt; kongen er den som har magten og det kan vi se på motivet som maleriet forestiller. Der er (umiddelbart) et 1-til-1 forhold i sådan et maleri.
Spørgsmålet er så om det stadig gør sig gældende for værk og formidling i dag?Jeg lader spørgsmålet stå usvaret og suser videre til slutningen, som Laurie Anderson (i forlængelse af Karl Holmqvist) får lov til at stå for: Only An Expert / Maybe if I Fall
youtube.com/watch

Supported by the Danish Arts Council Committee for Visual Arts
Photographer Andreas Johnsen