Skipping Rope Pillar 2005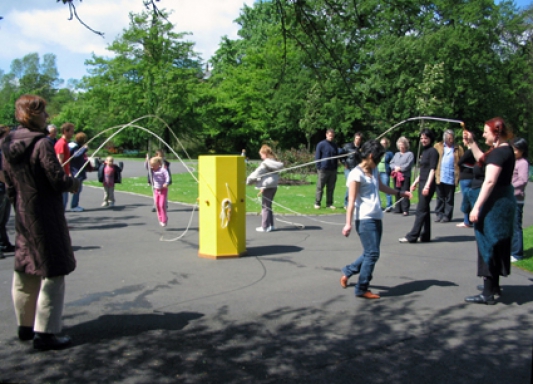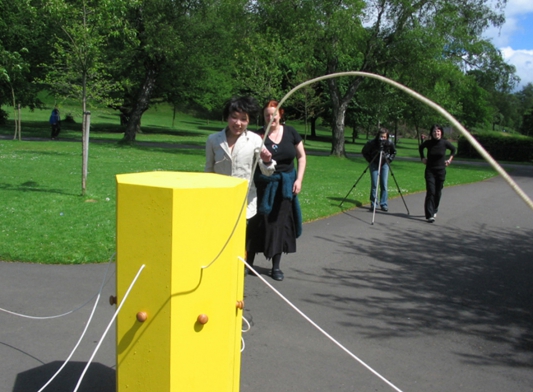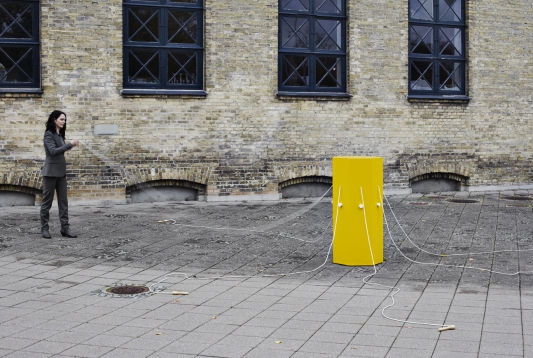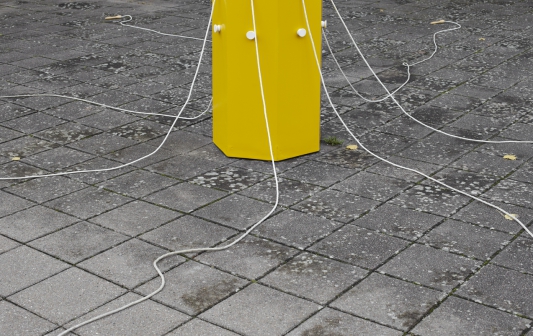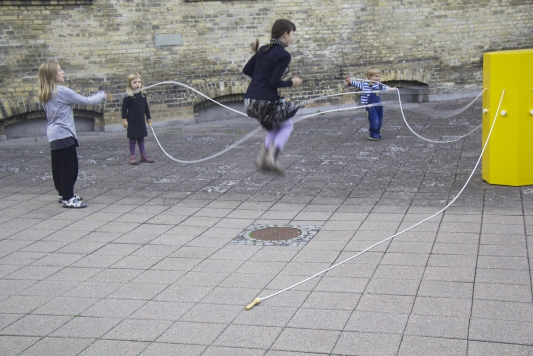 Skipping Rope Pillar
2016 Randers Art Museum, Randers Denmark
2013 MOCA Museum of Modern Art, Roskilde, part of solo show ROCK AROUND THE WORLD
2005 Kelvin Grove Park project, Glasgow.
Molly Haslund works with audience participation in the piece Coordination Models, which is a number of modified devises designed to challenge the participants. Familiar objects like skipping ropes, hopscotch frames and swings are integrated in various kinds of utility systems, where coordination and collaboration between the individual participants becomes imperative. The individual participant's motor skills are challenged as well as their ability to coordinate group movements in order to make the systems in the coordination models work. When this succeeds a common rhythm is generated that transforms the utilities from commonplace play objects to complex collaboration modules, where the individuals and the group are dependent on each other.
Rock Around the World
MOCA Museum of Contemporary Art, Roskilde
21 September–5 December 2013
''I'm clearly testing out ideas about the individual and the group - but we aren't playing in the 'get-back-to-nature' way. It's not a Rudolf Steiner concept, though they are all placed in more or less green parts of Roskilde, and positioned to blend in with the surroundings you won't encounter the soft nature. There is something totalitarian and dictatorial and constructed about the objects and, how can I put it, a bit of alleged extreme social democratic thinking is built into them, in their function and in the coercion of the direct functional use. These are ideas we recognize from other contexts: From the history of design, utility, from institutions, from school breaks, from math lessons, from physical education classes ... Yet my objects are dictating in a space where you can use this 'force' for whatever you like and even get high from it. As a starting point there is no body in charge and this often leads to something I can't quite define ... a kind of giddy euphoria, somewhat chaotic once you embark on it…''
''Some objects are daring and dangerous others almost impossible, they are just difficult to make work. In order to use the skipping ropes teams must be formed and practice is required some time before starting to obtain the ultimate usage. The possible encounters and opportunities for sharing are clearly central to the piece but the time when people imagine what might happen is just as important. There is quite a long way to go before the optimal use of the objects can be achieved, unless you are lucky enough to be present at the right time with the right people, or are able arrange a whole lot for it to happen. So the actual idea of how things can be optimally used and the sharing become the significant core.''
''The skipping ropes and hopscotch and the swings have never been displayed together before. They were all created for various exhibition contexts over the last ten years. The fact that they don't figure alone integrates them even more; it's definitely different when they are presented as a series, where the relationship enhances the individual statements.''
''All the works relate in an active way to the concept of imagining possibilities and limitations of physical, contemplative, individual, mental and social space. They possess social connections as an immediate option but loneliness is also present and there is even an evil side to them, which can appear quite fast and get out of hand. Paradoxically the works seem to provoke both directions and you must decide what you'd like to get out of them, and how far you will go. So there will be a clash between what you see, between the idea of ​​the object's function and what actually happens, what the objects actually are.''
Exerpts from interview with Anne K. Iversen

Photos by Matilde Haaning, Ekspress