Asymmetric Garden 2015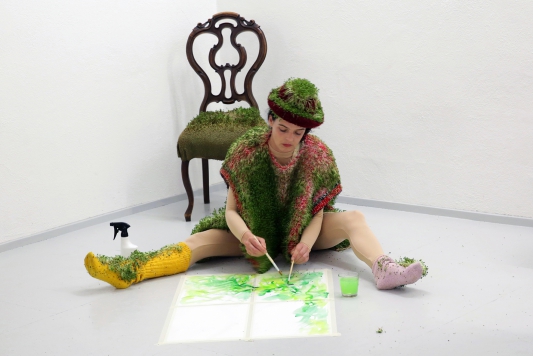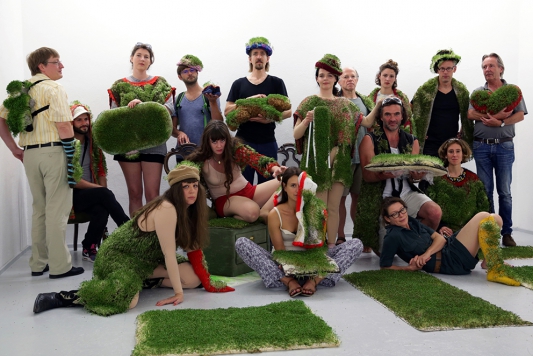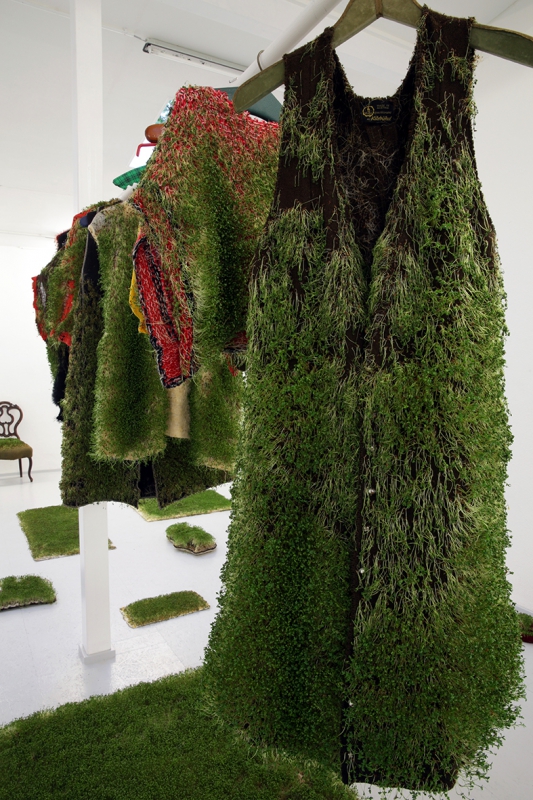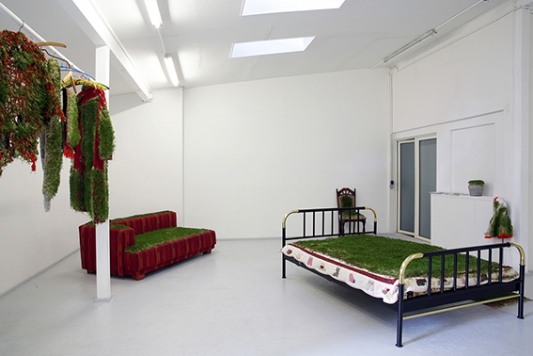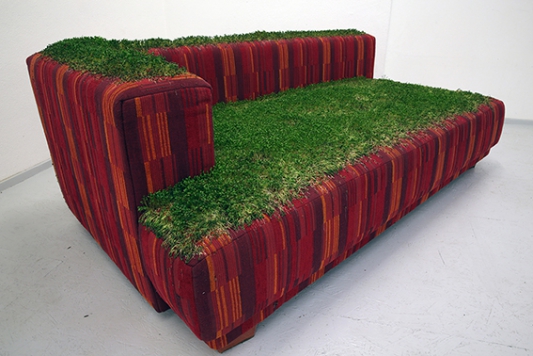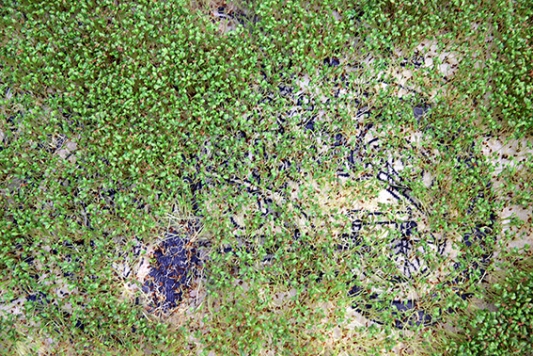 Asymmetric Garden (2015)

Exhibition at Galerie FOE August 31st– September 13th, 2015
ASYMMETRIC GARDEN & Group Photo, performance August 31st
7pm Performance mit Anna McCarthy, Gabi Blum, Molly Haslund.
Speach by Erik Wegerhoff

Reflector M (online magazin)
reflektor-m.de/ausstellung/molly-haslund

Asymmetric Garden, text by Erik Wegerghoff (scroll for German version)

A door, two vertical walls, a sloped roof on top, supported by rafters: not quite a house, but an allusion to a house. A bed, a couch, three well-placed chairs, a red carpet, slippers with a zebra pattern: not quite a home, but an allusion to a home. Cheap aspirations for false status in wobbly fake style chairs with pointed feet and lyra-like backrests which hardly support a back anymore. A long-stretched Mercedes is only printed onto a towel, the knickerbocker-wearing gentleman on the footboard with his wide mustache and mullet haircut says more about 1980s towel design than about automobiles and lifestyle in the 1930s. If you lived like this thirty years ago, you had no taste. If you still live like this today, you have even less money.
This is, however, not a real apartment, all kinds of things would lack for moving in. Nor is it a narrative autobiographical excerpt from someone's life, like Tracey Emin's bed in the Tate. Found objects open up a space of associations rather than a real space. Teddy bears and synthetic softness remind of childhood days at an age before aesthetics, in the midst of a world of images of flowers, a wolly sheep, cloths on the line. Maybe it is only the furniture that turns the roof, walls and door into a "house", a house that will remain within parantheses.
The cress is part of the home: perfectly domesticated nature based on cotton, quickly home-grown fresh, light sharpness for the sandwich that neither leaves the realm of central European taste buds nor the curating window sill. But there is no windowsill here. And when the cress leaves the window sill, it looses its harmlessness. Wanders across chairs, roots in pillows, sits on the bed sheets, penetrates the carpet, intrudes into the towel, finds a foothold on the slippers. Takes over the regime masked by green innocence. Covers the lieu de mémoire collective of a petit bourgeois' home with three and a half centimetres of green. Clothes what was so miserable before in a shiny fur of thousands of little leaves. Flowers in baroque opulence and scents the air with its sharp onion-like perfume.
But the cress government does not flower for long. Without water, the cress begins to fade. Looses its energy, sags, turns from green fur into yellow scab. And writes the history of its short regiment in dried roots and dry leaves. Bed, couch, chairs and carpet however are not the same anymore. Almost famous for fifteen days, they are background actors of a short narrative in which the cress however remains the triumphant protagonist. While the cress germinates, roots, grows and flourishes, the synthetics rot, the couch moulds, the bed linen sweat, the slippers collapse, the springs under the covers rust, the laminated wood rots and the chair disintegrates.
All of this is a transition rather than a transformation, a brief take-over, a short-term government, green magic. One feels reminded of Detroit where lawns not cut in ages mutate into wild meadows that suck away sidewalks, where roots of formerly well-behaved city trees brake up the streets' tarmac, where empty wooden houses rot and collapse and it becomes obvious how thin and short-lived the layer of civilization is. The asymmetric garden has something magical like every garden, it oscillates between humour and the uncanny. The watering artist is curator of a work that eventually defies her control. This is the asymmetry, not the divergence form a baroque central axis, but the divergence from expectation, also from the growing value that is so often expected of an art work. The objets trouvés from the dumps of our culture flower for a few days to then become compost at best.
Erik Wegerhoff, August 2015


Asymmetric Garden, text by Erik Wegerghoff (German version)

Eine Tür, zwei senkrechte Wände, darauf eine Dachschräge, gestützt von Balken: nicht ganz Haus, aber ein Verweis auf ein Haus. Ein Bett, eine Couch, drei ordentlich plazierte Stühle, ein roter Teppich, Pantoffel mit Zebramuster: noch kein Zuhause, aber ein Verweis auf ein Zuhause. Billige Aspirationen nach falschem Status in wackligen Fake-Stil-Stühlen mit gestelztem Auftritt und einer Art Lyralehne, die doch kaum noch einem Rücken standhält. Ein langestreckter Mercedes ist nur auf ein Handtuch gedruckt, der knickerbockerbewehrte Herr auf dem Trittbrett sagt mit breitem Schnauzer und Vokuhila mehr über das Handtuchdesign der 80er Jahre aus als über Autos und Lebensstil in den 1930ern. Wer vor dreißig Jahren so wohnte, hatte keinen Geschmack, wer heute noch so wohnt, hat noch weniger Geld.
Eine wirkliche Wohnung aber ist das hier nicht, allerlei würde fehlen zum Einziehen. Auch ist es kein narrativer (auto-) biographischer Ausschnitt aus einem Lebensraum wie Tracey Emins Bett in der Tate. Gefundene Objekte eröffnen einen Assoziationsraum eher als einen wirklichen Raum. Kuscheltiere und synthetischer Flausch erinnern an Kindheitstage im vorästhetischen Alter, inmitten einer Bilderwelt aus Blümchenmuster, einem wolligen Schaf und an der Leine flatternder Wäsche. Vielleicht macht auch erst die Einrichtung Dachschrägen, Wände und Tür zum "Haus", das ein Haus in Anführungszeichen bleibt.
Zum Haus gehört auch die Kresse: perfekt domestizierte Natur auf Wattebasis, in wenigen Tagen selbstgezüchtete, frische, leichte Schärfe fürs Butterbrot, die den mitteleuropäischen Geschmacksraum ebenso wenig verläßt wie die kuratierende Fensterbank. Hier aber gibt es keine Fensterbank. Und wenn die Kresse die Küchenfensterbank verlässt, verliert sie ihre Harmlosigkeit. Wandert über die Stühle, wurzelt in den Kissen, setzt sich in der Bettdecke fest, penetriert den Teppichboden, dringt ins Handtuch ein, faßt Fuß auf den Pantoffeln. Übernimmt unter der Maske grüner Unschuld das Regime. Überzieht den lieu de mémoire collective des Kleinbürgerheims mit dreieinhalb Zentimetern Grün. Kleidet, was vorher so erbärmlich war, in einen florierenden, in Tausenden Blättchen schimmernden Pelz. Läßt eine barocke Üppigkeit aufblühen und durchdringt mit ihrem scharfzwiebligen Duft den Raum.
Doch die Kresseregierung floriert nicht lange. Wasserlos, beginnt die Kresse zu welken. Verliert ihre Kraft, sackt zusammen, macht aus dem grünen Pelz einen gelben Schorf. Und schreibt die Geschichte ihres kurzen Regiments in vertrockneten Wurzeln und ausgedorrten Blättchen. Bett, Couch, Stühle, Teppich aber sind nicht mehr dieselben. Almost famous for fifteen days, sind sie Randfiguren einer kurzen Erzählung, in der doch die Kresse der triumphierende Protagonist bleibt. Während die Kresse keimt, wurzelt, wächst und gedeiht, rottet die Kunstfaser, schimmelt der Sofabezug, schwitzt die Bettdecke, macht der Pantoffel schlapp, rosten die Federn unterm Sitzbezug, modert der Pressspan und zersetzt sich der Stuhl.
All das ist weniger eine Transformation als eine Transition, eine kurzzeitige Vereinnahmung, eine Herrschaft auf Zeit, grüne Magie. Man fühlt sich erinnert an Detroit, wo der schon lang nicht mehr gemähte Rasen zur wilden Wiese mutiert ist, die die Bürgersteige schluckt, wo die Wurzeln einstmals braver Stadtbäume den Teer der Straßen aufbrechen, verlassene Holzhäuser rottend in sich zusammensacken und offensichtlich wird, wie dünn und kurzlebig die Schicht der Zivilisation ist. Der asymmetric garden ist verwunschen wie jeder Garten, er changiert zwischen Humor und Unheimlichkeit. Die gießende Künstlerin ist Kuratorin eines Werks, das sich letztlich auch ihrer Kontrolle entzieht. Darin liegt die Asymmetrie, nicht im Abweichen von einer barocken symmetrischen Zentralachse, sondern im Abweichen aus dem Erwarteten, und letztlich auch im Abweichen von der Wertsteigerung, die man so gern von Kunst erwartet. Die objets trouvés vom Sperrmüll unserer Kultur blühen für ein paar Tage auf, um dann bestensfalls zu Kompost zu zerfallen.
Erik Wegerhoff
Photographer Yvonne Leinfelder