SINGING LEIPZIG 2010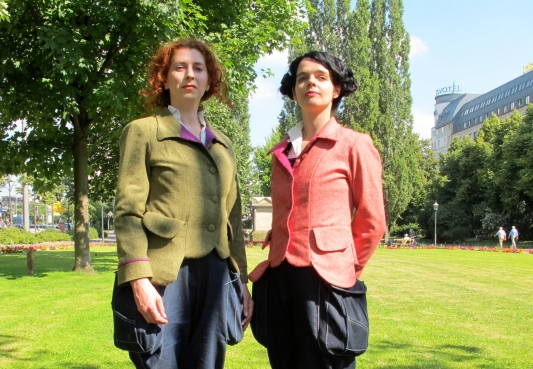 Singing Leipzig
2010 play! LEIPZIG - Movement in Urban Space festival and conference, June 2010
www.playleipzig.de
Supported by the Danish Art Council Committee for Visual Arts
Supported by the Danish Art Council International Committe for visual Arts
Notes on our contribution:
For the Play! Leipzig festival we aimed to create songs based on specific areas in the city – we ventured out in the morning to explore the regions allocated to each day of the festival.
We would spend hours in one area, writing notes, lyrics and improvising with rhythms and harmonies taken directly from sounds and noise in the regions. Impressions from people's movements, conversations, architecture, objects and nature were also impulses for our note gathering towards compositions.
Each day we played our 'Molly and Me signature song' to signify the announcement of our arrival and to give people the opportunity to follow our song making.
During the evening we worked in a studio space with source material gathered from the sites. We would play sound recordings, read texts out loud write and form our compositions.
Punks and Roses (Mitte)
We were in the small flower garden in front of the central station for a whole day. This was one of the original sites for the Monday demonstrations. The main influence for this song was a small ditty hummed to us by Sophia from Plan B. She heard it from a woman who used to sing it whilst marching on the demonstrations. ("Montag sind wir wieder da")
The tin box building was being demolished the day we were there; just a stone throw away from the flower garden. A car alarm which would not stop in the area also inspired our melody.
We imagined the horror of waking up to find our house being demolished by mechanical diggers and running into the local park for help. In this song hundreds of people gather in protest, we count them in each day from Monday to the next, reliving the spirit of the demonstrations; an ode to people power.
The Stone (Go West)
Two teenaged girls we observed from the stairs leading up to the 'Battle of Nations' motivated this song. The girls were sitting in amongst reeds by the lake drinking and playing around with a ball outside the monument. The ball kept being blown into the middle of the water. They had to wait for the wind to change so it could be forced back to the banks. The song becomes about the girls pushing an imagined giant stone, for future dreams, overcoming the past and working together to achieve it.
Signature Song
The trekking of our routes, situations passed and our intent is all in this song. Sung to derelict buildings, lakes, shops, bus stops, children playing football, people passing by, bridges and cars.
An incantation vocalised for entering the city and finding its flesh and bones. Almost supernatural, travelling anywhere unseen, the outsiders tramping forward singing a new song tomorrow.
Molly Haslund and Catherine Hoffmann 2011
Photographer Robert Zeig