Requiem Part II 2012–2013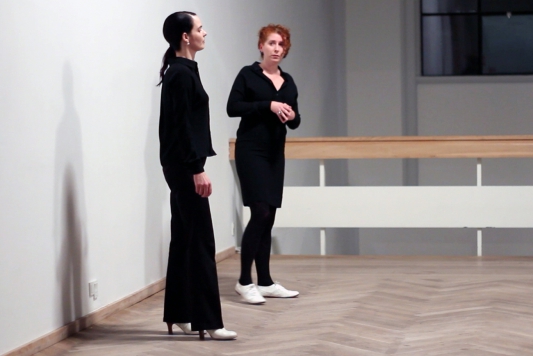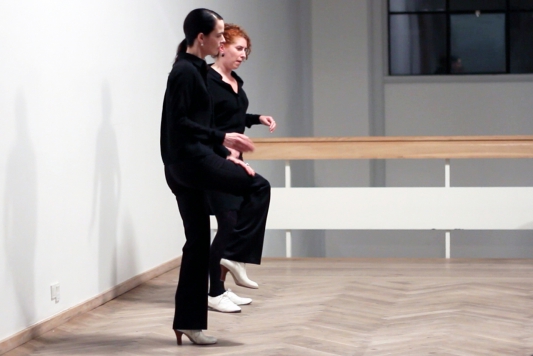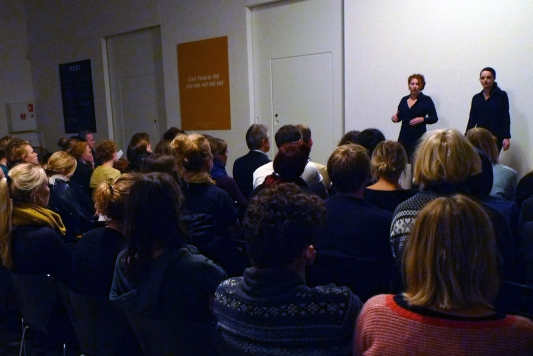 Requiem Part II 2013
SHOW&TELL: Performance night at Charlottenborg Palace
Curated by Judith Schwarzbart og Sanne Krogh Groth
Produced by students at Performance-design Roskilde University.
The program was supported by The danish Arts Council.
With Catherine Hoffman(UK) who was a returning collaborator between 2007 and 2014, REQUIEM PART II was created during my residency stay at Battersea Arts Centre, London, spring 2013. In Requiem Part II we re-enact the voices recorded when interviewing close family members about loss. Chosen bits and longer sequences are put together as a sound collage, or a musical composition; Intonation is transformed in to melodies, speaking into rhythm – our own bodies and voices are the instruments used 'conserving' the voices that we know once will disapear.
Nine different performance artists can be experienced in "Kunsthal Charlottenborg" under the same roof for one night only.
SHOW&TELL offers an insight into contemporary performance art, and presents a varied program that includes Danish and international artists in the fields of performance, sound, and installation.
The nine artists included in the program are:
Pernille With Madsen (DK)
Emil Alenius (DK)
Andrés Galeano (E/DE)
Kasper Vang & Mads Forsby (DK)
Nanna Lysholt Hansen (DK)
Molly Haslund (DK) & Catherine Hoffmann (UK))
Olof Olsson (S/DK)
The program presents works of art that investigate the body's increasingly symbiotic relationship to the machine, a performance lecture on the territory that connects storytelling, poetry and conveying knowledge. The program will in addition present an investigation of indexicality and iSociety, an architectural listening experience, and an auditive piece of art that is generated by the audience and an extraordinary requiem.
SHOW&TELL: The Performance Program 4.30–7 p.m
Free entrance!