PERFORMANCES AND EXHIBITIONS 2017 & 2018
HEX – billedets magt //HEX – the power of the image, 
group exhibition at Vejle Art Museum, Denmark, 
October 14th 2017–April 2nd 2018
Opening on Friday 13th 4.30pm
– with Gudrun Hasle, Andrea Mantegna, Jan Ziarnko, Kiki Smith,
Francisco Goya, Lilibeth Cuenca Rasmussen, Johann Heinrich Füssli,
Gustave Doré, Jean-Baptiste-Camille Corot, Georgia Horgan,
Marketa Luskacova, Molly Haslund, Peter S. Carlsen og J.F. Willumsen
http://www.vejlemuseerne.dk/exhibition/hex-billedets-magt
Frank Forum
Talk by Molly Haslund at Valand Academy
University of Gothenburg, Sweden
Tuesday October 17th, 3pm–5pm, including time for questions.Valand Academy has secure door entry. If you wish to attend please come to Vasagatan 50 for 2.50pm when someone will meet and escort you. Haslund will present recent works, such as 'Thyborøn Trawl Dance', 'Ghost Tent', and 'Circles'. She will elaborate on how each piece relates to place and people; to passersby, a given audience or to collaborators. She will also talk about how she documents her works.
Jeg tænker tit på det/ I Often Think About It
Group exhibition at BLVD 156,
October 18th–November 19th
Strandboulevarden 156, 2100 Copenhagen
Curated by Tomas Lagermand Lundme and Al Masson. 
With Al Masson, Esben Weile Kjær, Maria Wæhrens, Mette Hannemann, 
Molly Haslund, Peter Brandt, Thomas Cato og Tomas Lagermand Lundme. Opening October 18th 4–6pm /performance by Mia-Nelle Drøschler
KØS Art Stage at Tapperiet, Køge
Spoon Ball Match
February 9th 2018

REVIEWS AND RELATED
KUNSTEN.NU Ghost Tent images and video
kunsten.nu/journal/arkitektur-genopstaar
KUNSTEN.NU, interview
Ghost Tent, REFLEX 16, Dragør
kunsten.nu/journal/genopfoere-ikke-steder/
KUNSTEN.NU Corpo Planta photo montage
kunsten.nu/journal/galleries/molly-haslund-corpo-planta
REFLEKTOR M 
reflektor-m.de/ausstellung/molly-haslund 
KUNSTEN.NU Interview (Danish) by Matthias Borello
kunsten.nu/journal/underspillet-aggression
KUNST.DK, images from the 50th aniversary of the
Danish Arts Foundation 
kunst.dk/statens-kunstfond
KUNSTEN.NU,'DANCE ME!'
Wanås Konst review by Mette Garfield(Danish)
kunsten.nu/artikler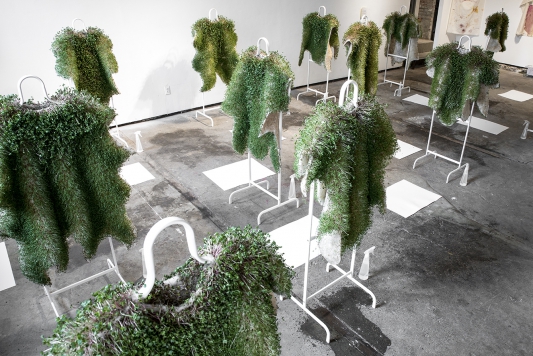 1000 WOODEN BALLS 2015
Hudson Valley Center for Contemporary Art
Peekskill project 6, Peekskill, New York